San Jose Convention Center Expansion and Renovation
The City of San Jose, Team San Jose and the local hotel community are thrilled to announce the completion of the expansion and renovation project of the San Jose Convention Center. The San Jose hotel community secured on-going funding for the Convention Center by implementing a special, dedicated, city-wide tax that provided project funding as well as ongoing capital maintenance funding to invest in San Jose's future. We are proud to share the end result with everyone and offfer a huge thank you to all our sponsors that made our grand opening so grand and all our partners who made this amazing addition possible.
The expansion structure is uniquely San Jose and showcases the City's innovative spirit, unifies the urban appearance, increases operational efficiency and provides long-term sustainability.
Combined with San Jose's new Airport and City Hall, the Convention Center is a key piece in differentiating San Jose as the innovation center of Silicon Valley. The expansion provides an important opportunity to enhance the Center and event services, deliver a great attendee experience and distinguish San Jose as an outstanding event destination.
EXPANSION AT A GLANCE:
169,957 total sq.ft of new, flexible convention space, which includes:
27,834 sq. ft. of new flexible meeting space
35,194 sq. ft. new Grand Ballroom
Renovation and integration with the existing convention center
IMPROVEMENTS AND ADDITIONS:
New Grand Ballroom
More break-out flexible space
Better way-finding
Outdoor event space
Upgraded technology
Improved arrival experience
Improved back-of-house function
DESIGN ATTRIBUTES:
This project was led by Public Works, with input from all stakeholders, including Team San Jose.
Hunt Construction Group has extensive expertise in Convention Center expansions and have successfully completed projects for Boston, McCormick Place West/Chicago, Moscone West, Phoenix and others.
CLICK HERE FOR PHOTOS FROM DEMOLITION THROUGH COMPLETION
CLICK HERE FOR THE FINAL TIME LAPSE VIDEO OF THE PROJECT
CLICK HERE FOR PHOTOS FROM THE 9/18/2012 TOUR WITH THE MERCURY NEWS
LIVE WEBCAM: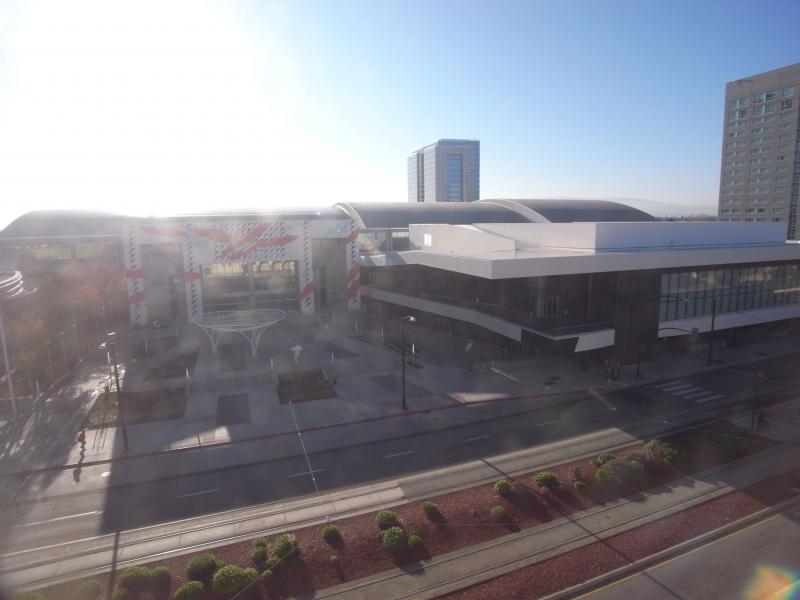 Click below to see why San Jose was named Happiest, Smartest and Healthiest city!

Dining Guide TSJ Theaters TSJ Jobs
Get an Official San Jose Visitor's Map & Guide HERE