Drawbridge (formerly Saline City)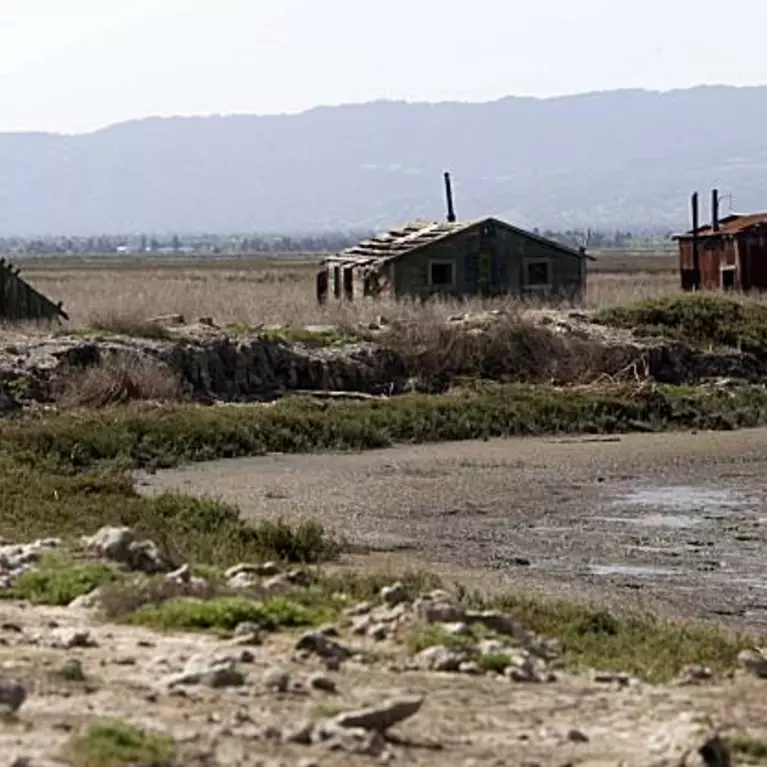 Drawbridge (formerly Saline City) is a ghost town with an abandoned railroad station located at the southern end of the San Francisco Bay. Six miles south of Fremont, the remains of the town are located on Station Island on the Union Pacific Railroad line. Formerly used as a hunting village, it has been a ghost town since 1979 and is slowly sinking into the marshlands.
Drawbridge was created by the narrow-gauge South Pacific Coast Railroad on Station Island in 1876 and consisted of one small cabin for the operator of the railroad's two drawbridges crossing Mud Creek Slough and Coyote Creek Slough to connect Newark with Alviso and San Jose. At one time 10 passenger trains stopped there per day, five going north and five going south. On weekends in the 1880s, thousands of visitors would flock to the town for weekend parties and fun on the bay.
The town's last resident is said to have left in 1979. Drawbridge is considered to be the San Francisco Bay Area's only ghost town. Drawbridge is now part of the Don Edwards San Francisco Bay National Wildlife Refuge and is a beautiful place to enjoy nature and discover a bit of lesser known history about the Bay Area.

PLEASE CONFIRM DETAILS DIRECTLY WITH BUSINESS FOR UPDATES
Contact
Old Bridge
San Jose
,
CA
95134
Category