Main Convention Center and Cultural Facilities Parking

The San Jose McEnery Convention Center lot is connected to both the Hilton and Marriott hotels in addition to the Convention Center. Entrances can be found on Market Street and South Almaden Boulevard, between Balbach/Viola and West San Carlos. The Convention Center lot is less than 2 blocks from the Montgomery Theater, San Jose Civic, The California Theatre, South Hall and the San Jose Center for the Performing Arts. Additional parking behind the Convention Center, by South Hall can be accessed from South Market/Viola or from Balbach/South Almaden.
Printable Maps with Directions:
Convention Center/South Hall Rates:

Convention Center:
$1 per 15 min, $25 - $30 daily maximum
*special event flat rates up to $25
South Hall:
$7 daily flat fee; no overnight parking
*special event pricing between $7-$25
Bicycles:
Covered bicycle racks are located just inside the convention center parking garage (Almaden Boulevard entrance).
Additional Downtown Parking:

Parking Validation:

The Downtown San Jose Parking Validation program offers patrons up to 90 minutes of free parking. Please look for a blue & orange ParkSJ sign in the windows of participating retailers.
Purchase Monthly Parking Passes:
For additional information on validation and for a list of lots that do not validate, but are available for parking downtown, please go HERE.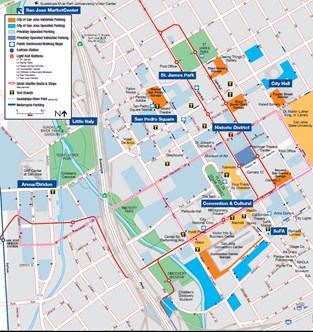 PARKSJ Validation Lots:
Motorcycle Parking:

RV Parking:

Trailer Ted
1212 Oakland Road Map
408-453-3535
Garden City Trailer Park
1309 Oakland Road Map
408-288-9481
Foothills Mobilodge & RV
655 34th Street Map
408-251-3655
Parkway Lakes RV Park
100 Ogier Avenue Map
408-779-0244
Camping Hookups:

Rancho Del Pueblo Golf Course
1649 Hermocilla Way Map
408-347-0990
Sleepy Hollow Trailer Park
4210 Monterey Hwy Map
408-227-8873
Coyote Valley Resort
9750 Monterey Road
408-463-8400