Sonic Runway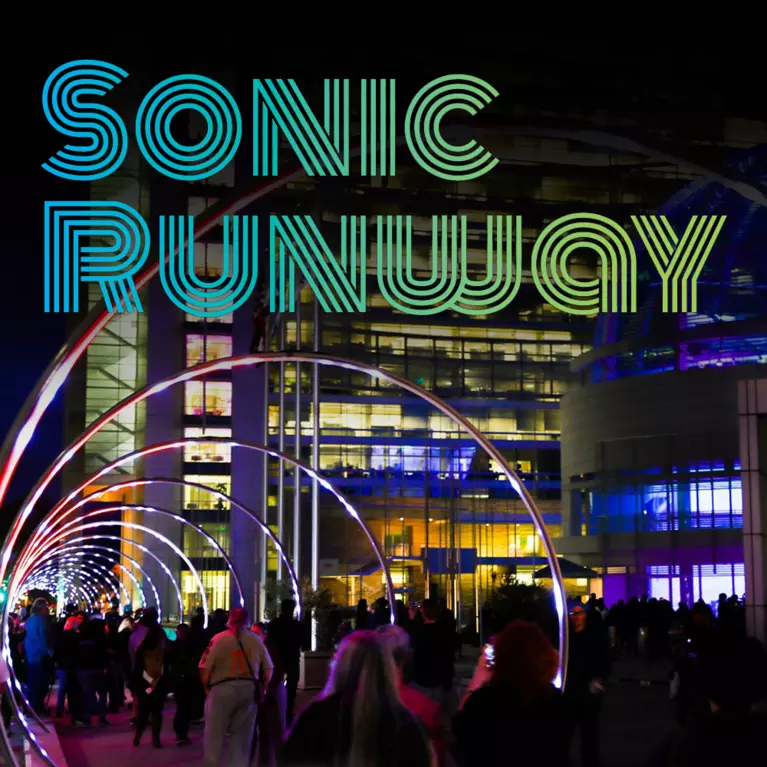 Created by a team of artists including lead artist Rob Jensen, co-lead Warren Trezevant, and designed by Stockhausen, Sonic Runway is a light-art installation that visualizes the speed of sound. Live audio input is converted into intricate light patterns that beam through a corridor of 25 arches, stretching 432 feet at the speed of sound, so that sound and lights are synchronized.
In addition to providing an engaging experience for City Hall Plaza visitors, Sonic Runway will again serve as a canvas for arts and events such as live and recorded musical performances, fashion shows, video and photography, and will appear in countless selfies.
As part of the new version, the artist team have developed new state-of-the-art sound-responsive light patterns and will regularly update the lighting and sound programming, enabling ongoing new experiences for the public to enjoy. The new design includes a professional quality sound system, increasing its attractiveness to multidisciplinary artists as well as the public in general. The new design features audio inputs at both ends of the runway, enabling artists to plug in at either end, and to trigger the light patterns with their music in both directions. The City of San Jose Office of Economic Development and Cultural Affairs will produce activation events throughout the duration of Sonic Runway's installation at City Hall to showcase local creative talent and offer a unique art experience for artists and audiences.
PLEASE CONFIRM DETAILS DIRECTLY WITH EVENT ORGANIZER OR BOX OFFICE FOR UPDATES
Where
San Jose City Hall Plaza
200 E Santa Clara Street,
San Jose
,
CA
95113
Neighborhood